christ & gantenbein's third project on campus
The latest addition from christ & gantenbein to the roche campus in grenzach-wyhlen is a multifunctional building developed as a workspace for the future. marking Basel society third project to be completed on campus, after an office building and technical building constructed in 2011, the "roche multifunctional workspace building" acts as a distinctive landmark and main access point. in reference to the site's manufacturing heritage, its exterior is reminiscent of an "industrial palace" made up of prefabricated, of local origin concrete elements, aluminum panels, mullions, transoms and ribbon windows. a lively, rich and eclectic interior contrasts the rigid and austere facade, filling it with a bustling world of highly adaptable custom furniture.
the "roche multifunctional workspace building" marks the newest addition to roche campus in grenzach-wyhlen, which was established over a century ago as its first manufacturing base near the swiss border. today it houses around 1,450 employees working for roche pharma AG (germany). Steeped in campus history, christ & gantenbein's new multifunctional workspace building embraces change in a formal, spatial and urban reinterpretation of the company's architectural and cultural traditions. developed as an alternative to the traditional office and home office, the project brings people together in a workspace that embodies the architectural translation of the cultural change of "new ways of working". thanks to its spatial and conceptual transparency, the building can easily accept and absorb changes over time to adapt to new conditions. "Our conception, quite simply, is radically open, free, non-hierarchical and flexible. we have created a framework for many forms of collaboration and communication to take place within its context, ' emanuel christ tells about designboom in our interview (more below!).
all images: roche multifunctional workspace building by christ & gantenbein, photos © walter mair, unless otherwise stated
A FLEXIBLE multifunctional workspace building
The new multifunctional workspace building by christ & gantenbein is almost 25 meters high and is designed as a simple cube, the corners of which appear open. this results from a typological characteristic that moves the elements of infrastructure and circulation to its corners, freeing the center on all floors above ground and forming an exposed interior space without columns. inside, an open-plan design invites unrestricted movement through its radically columnless floors, providing natural light and views throughout. the prefabricated and prestressed coffered ceiling elements recall an industrial language.
the building has a publicly accessible entrance hall on the ground floor that opens to a two-story forum on the first and second floors with smaller-scale pockets, followed by two levels of flexible spaces . the functional and comfortable interior allows for various gatherings, from the customizable 550-seat auditorium that can be divided into three individual rooms, to hyper-focused individual work areas. all furniture is based on a concept proposed by INCHfurniture in collaboration with christ & gantenbein; making it as flexible, modular and scalable as possible and positioning only a selected range of permanent luminaires. to find out more about the project, designboom contacted emanuel christ, co-founder of christ & gantenbein. read our interview in full below.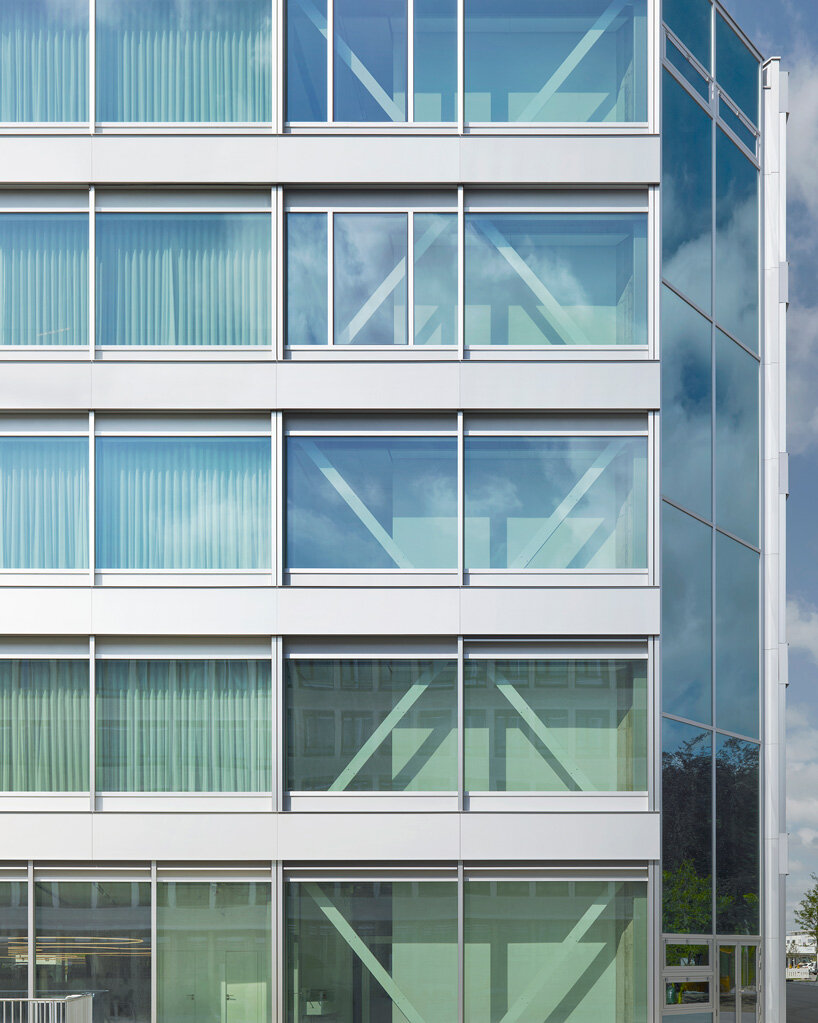 the austere facade of the rock multifunctional workspace building
interview with emanuel christ
designboom (DB): When did you start working on the multifunctional rock workspace building, and what was your initial approach to designing it?
christ & gantenbein (C&G): we started working on this project in 2015, having completed in 2011 an office and technical building on the roche pharma germany campus. many things that are relevant today: a building that is a meeting place and a place of exchange and education, a building that provides all those things that a traditional office does not offer and that the office does home does not provide.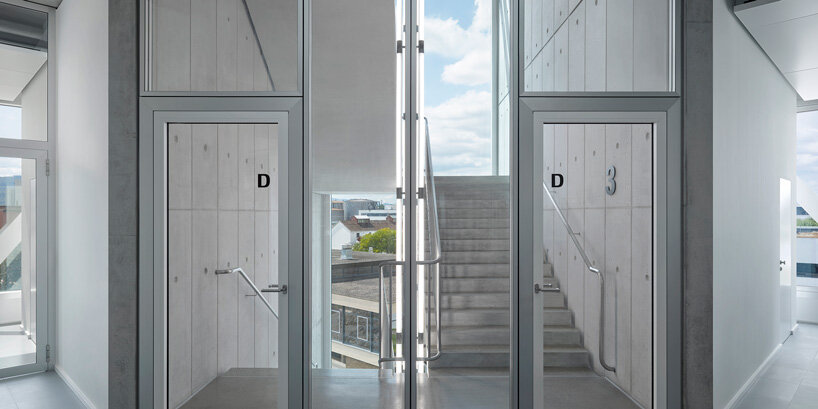 stairs appear from unexpected angles, revealing views of the surroundings
DB: this is the third project carried out by christ & gantenbein on the roche campus in grenzach-wyhlen. How does the new addition fit into existing buildings and the surrounding site?
(C&G): the roche pharma germany campus in grenzach-wyhlen follows a master plan formulated by roland rohn in the 1960s. our new building is of course one of them. our design is impressed by the rock architectural heritage, elegant but sober, such as the contributions of otto rudolf salvisberg and the overall assembly of factories, manufacturing buildings, production halls and management and office buildings of high quality on campus.
our new building is a formal, spatial and urban reinterpretation of these architectural and cultural traditions. it actively communicates with the wider community and existing structures through its design language, choice of materiality, and carefully calibrated proportions. in particular, the façade design incorporates and unites these principles. it refers to an industrial language. it is defined by horizontal bands of aluminum framing large windows. at the same time, the corners of the building are open and reveal stair areas.